Located just across the street from campus there is a number of local and chain restaurants. Stay posted for after hours.
Lunch
Lunch is served 11:30am-1:00pm for $8.75 (tax included) cash, MasterCard or Visa at the all-you-can-eat buffet Pippin Commons, a 5 minute walk from the Engineering quad. It's an easy location to meet up for a birds-of-a-feather (BOF) discussion over lunch.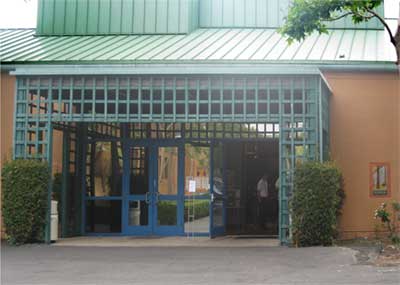 All on-campus retail restaurants are closed on the weekend with the exception of Stabucks and Wendys in the Student Center (a 10 minute walk) open on Saturday (only) 10:00am-4:00pm.
Off-campus restaurants
Directly across Campus Dr. (a 10 minute walk) is the University Center shopping center with a variety of sit-down and fast food restaurants including:
Steelhead brewery
Veggie Grill
Asia Noodle Cafe
Chakra Indian Cuisine
Lees Sandwiches
Z Pizza
Peet's Coffee (hours: 6a-11p)
Jack-in-the-box
In-n-Out Burger
KFC/Taco Bell
A little farther down Campus Dr. (a 15 minute walk) is Campus Plaza with:
Del Taco
Gina's Pizza
Starbucks Coffee
A 5-minute drive off-campus at Bison Ave and Bayswater is The Bluffs, a small shopping center with:
Panera Bread Bakery (free WiFi; hours: 7a-8p)
Islands
Carl's Jr.
Quiznos
Baja Fresh
Daphne's Greek Cafe
Pasta Bravo
Pei Wei
After hours / nightlife
For those interested in seeing a bit of the night life in Orange County we recommend checking out the following scenes:
Irvine Spectrum (Irvine @ 405 & 5 freeways)
Fashion Island (Newport Beach off MacArthur Blvd & Pacific Coast Highway)
Newport Beach (Follow 55 freeway south, and continue on down Newport Blvd to Balboa Penninsula)
Huntington Beach (Dining and Drinking)
Laguna Beach (Arts and Dining)