Founded in 1965, the University of California, Irvine combines the strengths of a major research university with the bounty of an incomparable Southern California location. With a commitment to cutting-edge research, teaching, learning and creativity, UCI is a driving force of innovation and discovery that benefits our local, national and global communities in multiple ways.
Location
Our event will be held in and around the Engineering quad at UCI. The nearest street intersection is Peltason Dr. and Engineering Service Rd., Irvine, CA 92697.

View Drupal Camp LA 2009 @ UCI in a larger map
Conference rooms
Since we're holding Drupal Camp LA at the UC Irvine campus, we'll be using smart classrooms and lecture halls for our sessions. Most rooms have a smart podium, with an in-podium PC, laptop connection with VGA+audio hookup, DVD player, speakers, and controls for the projector screen, room lights and room sound level (exact controls vary by room). The largest lecture halls also have a document camera, CD/cassette deck, writing tablet, gooseneck microphone, wireless microphone, and preview monitor.
No food or drink inside any classroom or lecture hall (closed water bottles allowed). No smoking in any building, within 20 feet of any building entrance, or where prohibited by sign.
Physical Sciences Lecture Hall 100 (PSLH 100)
This is a stadium-style lecture hall that seats 444. It's the biggest lecture hall on campus. For technology, it's got it all, including a podium gooseneck microphone, a wireless lapel microphone, and a handheld wireless microphone for recording audience questions. Oh, and also a large periodic table of the elements, in case you need to lookup the atomic weight of Bismuth. Very few power outlets.

click for details
Donald Bren Hall 1100 (DBH 1100)
This is a large lecture hall that seats 250. It has all the technology listed above, including a podium gooseneck microphone, a wireless lapel microphone, and a handheld wireless microphone for recording audience questions. This room can project one large image, or two smaller images. Sorry, no periodic table, but is does have cool motorized window shades. Very few power outlets.

click for details
Donald Bren Hall 1600 (DBH 1600)
This smaller lecture hall seats 125. It has the basic smart classroom technology, including podium PC, laptop VGA+audio connection, but no wireless microphones, so if you're presenting stand by the podium when you're talking. Also, please repeat any audience questions into the microphone so they'll get recorded in the screencast. Very few power outlets.

click for details
McDonnell Douglas Engineering Auditorium (MDEA)
This is a large seminar room that seats 100. It has seminar tables with a power outlet at every seat! The presentation technology is basic, just a small podium with a VGA+audio cable and a (wired) microphone, so bring your own laptop (or borrow one) if you're presenting in this room.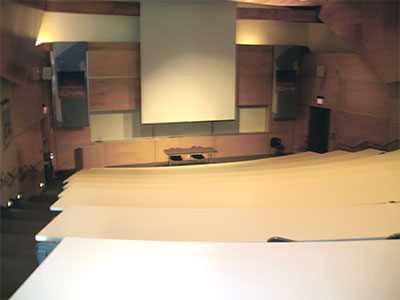 Engineering Hall classrooms (EH 1131,1141,1151)
These three classrooms each have 24 2-seat lab tables, but we'll add some additional chairs so each room can seat 30. There are PCs on the tables but they won't interfere with seeing the screen. There's a smart podium with an in-podium PC, laptop VGA+audio connection. We're still figuring out the microphone situation in these rooms. Power outlet at every seat.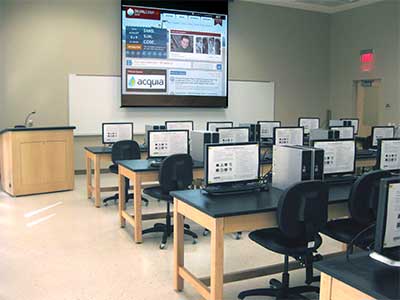 Engineering Hall 2430 Colloquia room
This room has 24 2-seat rollable tables and 48 rolling chairs. We'll be handling registration here, as well as vendor tables, and our Drupalchix help desk. This room has a smart podium with an in-podium PC, DVD player, and laptop VGA+audio connection, along with an awesome widescreen projector. It also has cool motorized window shades, and a nearby kitchen area. Drop by and hang out.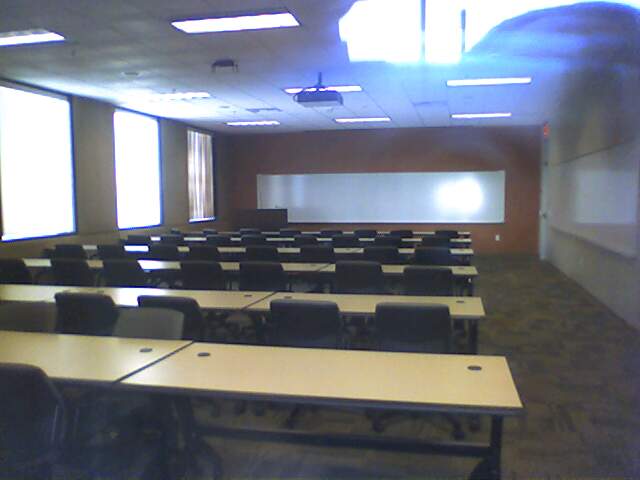 WiFi Network

The UC Irvine WiFi network is called UCInet Mobile Access. All computers must be registered with their MAC address and all use must comply with the UCI Computer and Network Use Policy. Basically, use must be consistent with the educational mission of the University:
no unauthorized access (e.g., sniffing, hacking, port scanning)
no peer-to-peer applications
no insecure equipment may be connected (e.g., unpatched systems)
no downloading/sharing unauthorized copyrighted materials
no excessive use of bandwidth (particularly off-campus)
no interfering with normal network operations
Note: this is not an exhaustive list; please be courteous
We have Visitor WiFi available in all our rooms, and much of the outdoor Engineering quad area (outdoor signal strength may vary). Get on-line using Express Registration:
Make sure your wireless card is active and connect to UCInet Mobile Access.
Open your Web browser and try to connect to any Web page.
You will be directed to the Express Registration web page.
Click Register as a Visitor of UCI.
Read the Visitor agreement and fill in the Web form with your name,
email address and reason for visiting the campus (Drupal Camp LA).
Click the Submit button.
Your computer's hardware address will be automatically detected and registered for access to our mobile network. After 1 minute you should be redirected to the Web page you were trying to access. If you cannot connect, try again in a few minutes. Your computer may take a few minutes to update its network settings. If you still can not connect, try rebooting your computer.
Additional restrictions on Visitor WiFi:
Visitor access to the UC Irvine network is granted for a 24 hour period.
Visitors may register no more than 7 times in a 30 day period.
Visitor access is restricted to Web traffic (HTTP and HTTPS), Email (IMAP and authenticated SMTP) and SSH.